Nintendo Switch
Earlier in the year when my health started improving (pretty much magically without any doctors' help, which I really should write about at some point), I started talking about buying a Nintendo Switch. I was conflicted though because I get tired of games pretty quickly. We both have a Nintendo DS and a library of games we rarely play. Regardless, whenever we'd walk buy the Switches at Target I would consider buying one. Well, Costco then had them on sale but I hesitated too long and they sold out. Suddenly they weren't available anywhere and of course at that point I decided I really wanted one!
Fast forward to the morning of September 22nd when I saw a deal site advertising Switches back in stock at Walmart. I went to their website but didn't see any available. Then I had an idea: maybe if Walmart had some, Target would also. Sure enough, they did! Not at my local store, though, but to order for delivery. Joe was at Menards picking up the scaffolding to do the living room ceiling work so I decided to order the Switch without discussing it with him first (so it could be a surprise). It felt wrong because we always discuss large purchases. Luckily when it was delivered a few days later he was just as excited as I was even though I'm more of a Nintendo fan than he is.

Since the system didn't come with any games we immediately headed to the library to see what they had and wow, was I impressed with their library of games.
The kids' section is where all the really good games were, however.
We came home with the maximum number of games we were allowed to borrow at one time.
By far my favorite game was Penguin Wars. I have the same game on my original Gameboy. Joe and I had fun battling each other. So much so, in fact, I wanted to buy a copy but it's already out of rotation. Instead of paying $20+ on ebay, I ended up buying a digital copy for $7.50 since it happened to be on sale. So that was my first actual purchase.
I also liked the Tsum Tsum game and Bubble Bobble. The rest I could do without.
A week later we got another batch of games, mostly Mario related.
I didn't care for Mario Party, or the Rabbids collaboration, but I really liked Super Mario Odyssey and Paper Mario Origami King. And of course, Mario Kart 8 Deluxe which we're going to have to buy at some point because it's a Nintendo staple. You can modify the settings so you're not able to die which makes it more fun. Nothing is more frustrating than flying off the edge of the track.
We also borrowed Burgertime (not pictured), but it was terrible. As was LEGO City Undercover which I was hoping to like.
Here's our recent batch of games which are due back tomorrow:
I haven't tried them all yet, but so far I am surprised to like Untitled Goose Game. I got it because it sounded so ridiculous, but it's fun and I spent awhile playing it yesterday while lounging on the couch. I'm enjoying the Switch even more than I anticipated which is a relief.
Since none of the libraries in the area carry them, and they were on sale, I bought two games from Walmart that were delivered yesterday: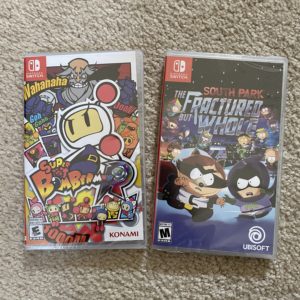 Bomberman R ($15) (for the battle screens, of course) and South Park Fractured But Whole ($20) because it sounds funny. I'm sure these games will keep us entertained through the cold, lonely winter.