Extended Birthday Weekend
I worked Mon-Fri this past week so I could have my birthday off on Thursday and Joe took Thursday and Friday off to spend it with me.
Thursday I woke up to this:
Then we went to Egg Harbor Cafe for brunch and to the Container Store. Believe it or not, I walked out empty-handed. I love browsing that place so much but can't bring myself to buy anything most visits. There was one thing that caught my eye but the line was ridiculously long for a weekday afternoon so we just left.
For dinner we went to Happy Elephant and then stopped at Carson's to browse. Joe ended up buying a faux leather jacket that was 60% off. He looks quite sexy in it. I got a small wallet, but I teased him about his purchase and wished him a happy birthday. LOL
We only went into Carson's to kill time before an improv show at the Laugh Out Loud theater.
For my own reference, here's the actors we saw that night:
DJ Cashmere
Jay Gish
Jin Kim
Sean Sullivan
Rudy Voit
There were some other people in the first group we saw (the above are considered the main players) but they aren't listed on the website which is unfortunate because the one guy really reminded me of someone and I wanted to know more about him. Oh well.
It wasn't very crowded so we were in the first row which was cool because you could see everything well, but a little nerve-wracking since the actors depend on the audience for suggestions and would put you on the spot sometimes. That stuff makes me anxious but I did ok and by the end was shouting out my own suggestions. It was a good time. The last time we were there was nearly six years ago with a group of friends but two of them didn't enjoy the experience as much as we did and one is sadly no longer with us as she passed away last year.
After the show we stopped at this interesting burger bar called Kuma's Corner where they play heavy metal music. Usually that sort of stuff gives me a raging headache but I really liked the atmosphere. Too bad the food wasn't all that. We shared an order of fried pickles and a burger, neither of which impressed us. That being said, we'd go back to try something else since we liked the place overall and the staff was very nice. Oh, and being a bar there was some interesting graffiti in the bathroom. I memorized a few to relate to my brother since we share the same dirty sense of humor but I won't post it here other than to say that one gem had to do with farts and the other with penises. Oh, and someone drew a shark wearing a tutu on the wall which cracked me up.
Earlier in the week I asked a couple of friends whether they wanted to meet up for Friday might BINGO but only one of the four was available, so I ended up asking my mom if we could stop by for a game night instead. I would have loved to have a party at our place but my mom can't visit due to her sensitivities, so I basically invited myself over instead. It was just me, Joe, my parents, and Brother #1. We had Panda Express (for me) and pizza (for my dad, whose birthday was on the 5th) as well as homemade chocolate cupcakes my mom made. She also bought me a yellow cake. "What, no lemon?!?" I exclaimed (she used to bake me lemon cakes when I was a kid).
Brother #1, who already gave me my main birthday present back at Christmas since he wasn't sure when he'd see me next, gave me some dark chocolate, Sour Patch Kids, three boxes of Nerds ("what are you implying?" I asked him with a smirk), and this card because he's a punk. It did make me laugh, though.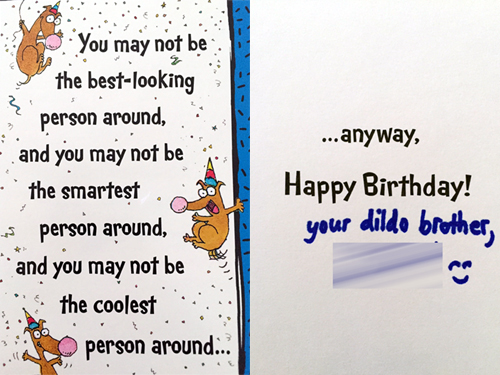 We played Smartass and Taboo which was a blast. My brother was my partner for Taboo and we beat Joe and my mom by one point. It was a fun evening! Even though we left just before 11 pm we didn't get to bed until 2 am because we were a little wired when we got home.
Saturday we ran some errands including stopping at Noodles & Company for my free bowl of birthday noodles and Jamba Juice for a free five fruit frenzy. Glad I'm done with all that eating now! Once we got home early afternoon we hunkered down to ride out the snow that was expected to fall (although it wasn't as much as they predicted). We watched Sleeping With Other People which was better than I was expecting, if not predictable.
Sunday I slept in a bit and we lazed around the house until about 4 pm when we decided to go out and grab some boneless wings.
Today I did my regular Monday cleaning and made some banana breakfast muffins. Not exactly looking forward to going back to work. I really enjoyed my five day weekend!